Getting out into nature is good for your body and your mind — and a little planning can make your outdoor experiences both safe and memorable. Below you'll find safety tips from Toronto and Region Conservation Authority (TRCA) to help you prepare for your next outdoor escape.
QUICK LINKS:
---
General Safety Tips for Natural Areas
While a visit to a natural area should be fun, healthy, and exciting, you should also be mindful of the risks. These include:
Irregular terrain
Becoming disoriented
Falling objects
Changes in weather conditions
Encounters with natural features such as wildlife, bugs and poisonous plants.
Some tips to help you plan your next visit:
Use the buddy system. It's more fun to explore nature together — and a friend can help you if you get into trouble.
Plan your route ahead of time; tell someone responsible where you are going and when you expect to be back. Keep in mind that some areas may have limited or no cell reception
Stay on marked trails or permitted areas at all times.
Bring a map of the area you plan to explore. (If one isn't available, most smartphones have a built-in GPS that will help you keep track of where you are.) Be aware of any features or landmarks you encounter on your trip.
Plan for the sun! Cover up: wear a sun hat, sunglasses and sunscreen.
Wear light-coloured clothing.
Dress appropriately for the weather. Dress in layers: wear warm clothing in colder seasons (and bring an extra layer). Dress in lighter layers for warmer weather.
Even if the weather looks clear, pack rain gear — just as a precaution.
Avoid forested areas on very windy days.
Carry plenty of drinking water and a high-energy snack.
Carry a phone and keep an eye on the batteries. (Remember though: phones and GPS are just back-up navigation tools; technology can fail.)
Have a back-up plan just in case.
Remember: trail and terrain conditions vary; wear closed-toe footwear appropriate for the terrain, season and activity at hand.
IN THE EVENT OF AN EMERGENCY, CALL 911
If you do get lost, remember: S-T-O-P!
Stop and do your best to stay calm.
Think about when you last recognized where you were.
Observe your surroundings. Look around for signs of something familiar. Listen for other people or activities you recognize. Maybe you can smell a campfire, or some cooking in the wind.
Plan your next move. (e.g., Use your phone if you can, make noise or blow a whistle to alert others that you are lost).
If a member of your group has gone missing on TRCA property, notify park staff immediately. If the person is lost after hours or in an unmanaged natural area, call 911.
Recreational Activities:
Outdoor activities at our conservation areas offer additional fun and excitement. But some, like mountain biking and cross-country skiing, present certain risks. These include falling down and colliding with objects or other people.
Always assess and reassess your ability level in relation to the challenge ahead of you before choosing to participate in any activity.
EXPLORE HERE to find the outdoor experience that is right for you.
---
Winter Safety Tips
TRCA reminds all nature seekers to be extremely cautious when outside during the winter months.
Ice is never 100% safe. Please STAY OFF local TRCA rivers, streams, ponds, reservoirs, wetlands and marshes. Conditions are not being monitored and ice may be unsafe. Do not put yourself and others at risk.
More winter safety tips:
Please stay on designated trails at all times.
Keep family and pets away from the edges of all bodies of water.
Avoid all recreational activities including skating, snowshoeing and skiing in or around water, especially near ice jams or ice-covered water bodies.
Do not attempt to drive or walk on iced-covered water bodies.
Stormwater ponds/facilities were not built for ice skating. Water levels on these ponds can change due to road salt, snow melt and changing temperatures causing cracks and dangerously thin ice.
Avoid walking close to/across riverbanks and ice-covered water to prevent falling through. River banks can become unstable in the spring due to snowmelt and erosion.
Beware of thin ice that may develop around dams. Dam operators often lower water levels in reservoirs during winter and spring.
Rescuing another person or a pet from ice is dangerous. If you see anyone that has fallen through the ice call 911 for help immediately.
---
Taking Children into Natural Areas
Talk to children about what to do if they get lost. (Refer to the

STOP

tips above.)
Let them know they won't get into trouble for getting lost.
Remind them to stay calm and not to run; tell them to "hug a tree."
If going on a longer hike or trip in a large natural area, give the child a whistle; you can even attach it to their clothes.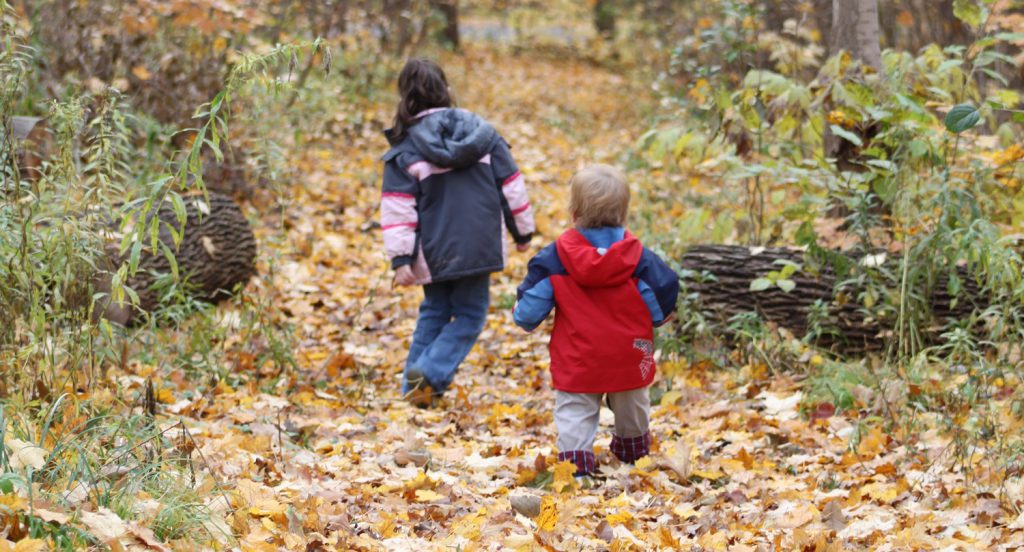 Don't be afraid of nature or animal sounds: "If you get scared, blow your whistle loudly."
Tell them that people will come looking for them. If they see someone coming, they should blow their whistle or make noise. Remind them to look for people in uniform, or women with children.
Come up with a password that you and the child will know in case a stranger needs to pick them up. Give the searchers the password to use.
Make note of the clothes the child was last seen wearing; this will help searchers identify the child.
In the event a child goes missing, call the park supervisor IMMEDIATELY. If the child is lost after hours or in an unmanaged natural area, call 911.
---
Stinging & Biting Bugs
Unfortunately, there are certain times of year when going into nature anywhere in Southern Ontario means bug bites.
While most stinging bugs aren't likely to cause anything worse than an "ouch" or itch, some individuals with greater sensitivity may have a more severe reaction to a sting or bite.
Some insects in Southern Ontario do carry diseases, such as West Nile Virus or Lyme Disease. While the risk of contracting these illnesses is low, it's important to be aware of the possibility.
To learn more about the types of insects or animals that carry these diseases, please visit your local Public Health Unit website. Find the one nearest you by entering your postal code HERE.
If you or someone travelling with you is highly sensitive to certain types of plants or animals, plan ahead: check with your Public Health Unit regarding advisories, and make sure you're carrying any prescribed medication at all times.
As an additional precaution, wear light-coloured long sleeves, long pants tucked into your socks, and closed-toe footwear.
---
Poisonous Plants
Certain plants in Southern Ontario may be harmful if ingested, or if they come in contact with your skin or eyes. These include poison ivy, poison sumac, giant hogweed, water hemlock, several species of mushroom, and others.
The best way to avoid harmful plants when visiting a TRCA property is to stay in permitted areas and on trails, and to wear light-coloured, long-sleeved shirts and long pants. Refrain from touching plants, and NEVER eat anything that you find in the wild.
If you or someone with you should experience faintness, nausea, vomiting, confusion, trouble breathing, a change in skin colour or any other type of emergency reaction after interacting with a plant or receiving a bug bite, call 911 IMMEDIATELY.
---
Encountering Wildlife
Every trip into a natural area brings the opportunity to encounter some fascinating wildlife. While most of the animals common to natural areas in Southern Ontario are fairly low-risk, it's nevertheless wise to take some precautions:
Never feed wild animals. Feeding desensitizes them to human contact and increases the likelihood of a negative encounter.
Leave them alone. If an animal is not bothering you, don't disturb it. Make sure it has an exit route from where you are located, and do your best not to corner it or block its line of retreat.
If you encounter a larger animal such as a coyote, keep your distance and stay calm. In all probability it won't be interested in you. In the unlikely event that it approaches:
If you have children, pick them up.
If you have pets, keep them on a leash. (Never leave pets unattended outdoors.)
Yell and make yourself look bigger.
---
If you think you may have contracted a disease from a plant or animal in a natural area, contact:
Your doctor or other health care provider.
Your local Public Health Unit (PHU). Find the one nearest you by entering your postal code HERE.
Telehealth Ontario: A round-the-clock free service, staffed by registered nurses, to provide answers to health-related questions.

Toll free: 1-866-797-0000
TTY: 1-866-797-0007