JOB BOARD
View Toronto and Region Conservation Authority's (TRCA) job board for all current positions, including permanent, contract, and seasonal.
Summer Job Opportunities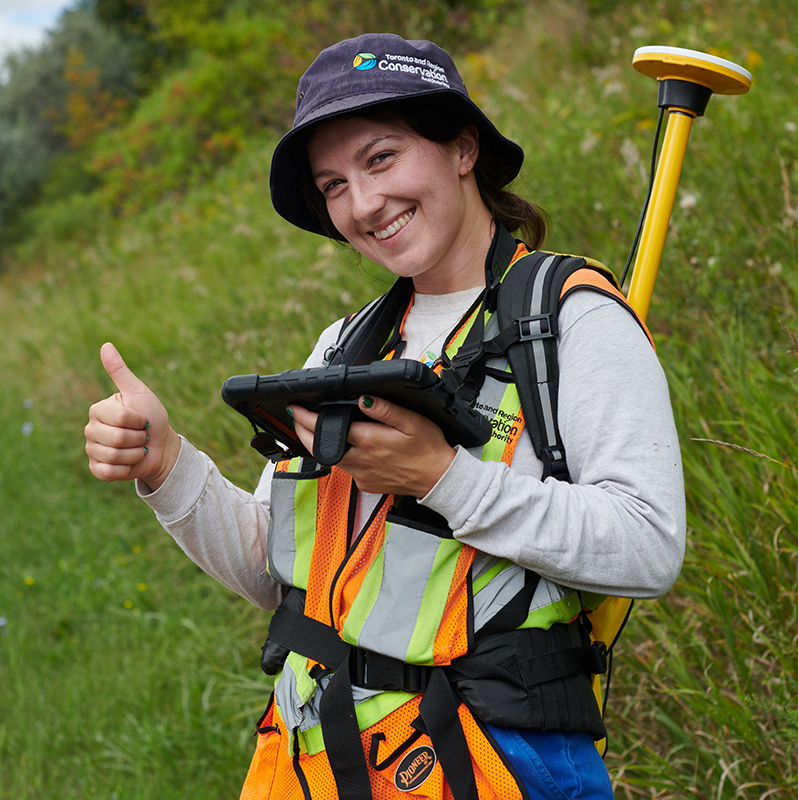 TRCA is now hiring Lifeguards, Camp Counsellors, Facilities Maintenance staff, and Visitor Service team members for our 2023 summer season! Enjoy a summer job with competitive wages and benefits that include FREE access to all TRCA parks and discounts on activities across the GTA.
Career Training for
Environmental Professional Newcomers
The Professional Access into Employment (PAIE) program is now accepting applications for their February 2023 cohort.
This nine-month bridge training program supports internationally educated engineers, geoscientists, planners, and environmental scientists looking to launch their careers in Ontario!
Subscribe to the PAIE newsletter for program updates.
Pursue your career while contributing to a healthier environment in Toronto and the GTA.
Toronto and Region Conservation Authority (TRCA) offers different types of jobs and employment opportunities throughout the year, whether you are just starting out in your career or have many years of experience.
TRCA is a place where you can find people united by a passion for what they do and the communities they serve.
Learn More About Working at TRCA
About TRCA

With more than 60 years of experience, Toronto and Region Conservation Authority (TRCA) is one of 36 Conservation Authorities in Ontario, created to safeguard and enhance the health and well-being of watershed communities through the protection and restoration of the natural environment and the ecological services the environment provides.

TRCA works to protect the integrity and health of the rivers and creeks in the jurisdiction, develop a system of green and natural spaces that sustains local ecosystems, and advance sustainable practices that improve people's lives within our growing region.
Why TRCA?

At TRCA we are committed to preserving and protecting nature, while maintaining a balance between the natural environment and built environment. We offer opportunities to contribute to meaningful work that makes a positive impact in the Greater Toronto Region.

Our employees embody the core values of integrity, collaboration, accountability, respect, and excellence.  We care about the communities we serve and thrive on achieving collaborative success with our partners.

We are committed to diversity, equity and inclusion.  As an employee, you will be part of an organization that values public service, fosters teamwork, provides learning opportunities, and offers competitive total rewards program, including competitive compensation, extensive benefits package and pension plan. Learn more about the important work we do.
Core Values

Working with government and the communities we serve to achieve collective impact and advance shared goals.

Core Behaviours

INTEGRITY
We are honest, ethical, and professional.

COLLABORATION
We achieve shared goals through a solution-oriented approach.

ACCOUNTABILITY
We are responsible for our actions, behaviours and results.

RESPECT
We recognize and value that our differences make us stronger and we commit to creating a diverse, equitable, and inclusive workplace that celebrates individual contributions to provide dignity for all.

EXCELLENCE
We maintain a high standard of performance and customer service, consistently striving to improve and produce quality work.
Benefits

What TRCA has to offer you

As part of a progressive team you will have the opportunity to make a positive impact to preserving and protecting nature, while maintaining a balance between the natural environment and built environment. Working with experts within our field, you will join a team of colleagues that are committed to TRCA's core values of integrity, collaboration, accountability, respect, and excellence (icare).

You will be part of a diverse and inclusive organization that:

Makes a positive difference in the communities we serve
Fosters high performance and collaborative teams
Provides continuous learning and development opportunities
Provides flexible work arrangements
Offers potential for career growth and advancement.

TRCA offers a competitive total rewards package which includes benefits in addition to base salary for many of our employees:

Extended Health care, Dental care, Vision care, Life Insurance benefits
Pregnancy & Parental Leave Top-Up Program for permanent full-time employees
Pension plan (Defined Benefit Pension Plan – OMERS/OTPP)
Vacation Entitlement
Employee Assistance Program
Discounted gym membership and perks through Perkopolis
Health and Wellness program
Access to a Conservation Ontario Pass

* Our benefits are provided to full-time permanent employees and temporary employees who meet eligibility requirements based on our group benefits plan criteria and pension plan criteria.

Working at TRCA is a rewarding experience where you make a positive impact on conservation efforts in the Toronto region.
New TRCA Head Office

Coming in 2023


TRCA's new head office is an exciting project that will set a benchmark for sustainable design in commercial building.
Volunteer Opportunities
Throughout the year, TRCA offers a variety of volunteer opportunities, including volunteer positions, events, and programs.
---