Toronto and Region Conservation Authority (TRCA) offers fun, interactive programs that bring nature education to you at NO COST.
Watershed On Wheels (WOW) strives to provide students (and teachers!) with environmental education opportunities to complement the learning taking place in class.
Current virtual programming is available in three formats:
*Limited availability
Interested in what we offer once we can get back into the classroom? Find out more!
WOW E-LEARNING RESOURCES
Watershed on Wheels now offers e-learning resources for teachers — available for grades 1-6 and 8.
These are FREE digital resources that teachers can use with students to explore a topic within the WOW standard program suite.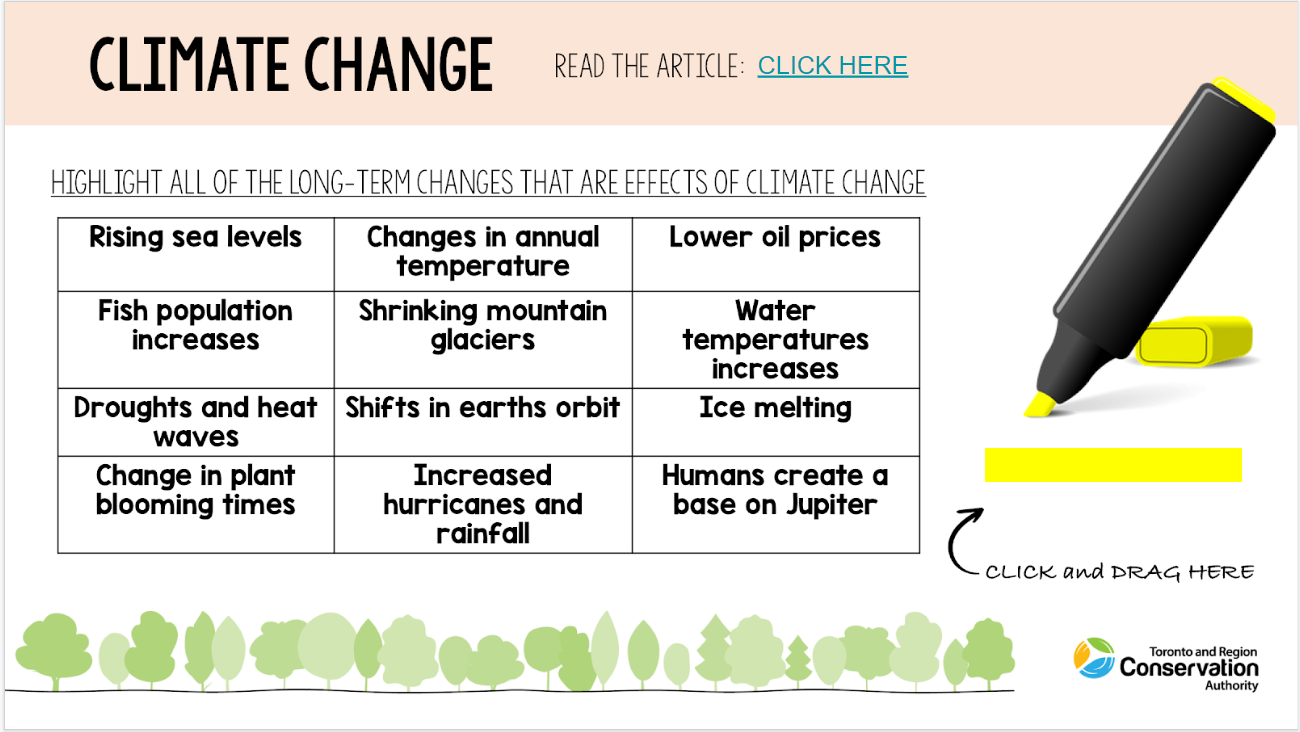 Please refer to the descriptions of our WOW programs to gain insight into the topics covered.
NOTE: E-learning resources for TRCA's Rain to Runoff program are also now available for schools and community groups. LEARN MORE.
Register below! Help us effectively track the distribution of these free resources. Each teacher should sign up for resources separately.
Get e-Learning Resources
Select your region using the buttons below to request Watershed on Wheels e-learning resources. Upon registering, you will receive an email within 2 business days with resource access details.
WOW LIVESTREAM PROGRAMS:
Nature in Your Classroom
Bring us into your classroom — virtually!
On WOW Wednesdays, our Watershed on Wheels educators are going live on YouTube with curriculum-connected lessons about the natural world!
As you tune in, along with other classes and learning communities across the Greater Toronto Area, you and your students can ask questions in real-time during the livestream lesson*.
Nature in Your Classroom livestreams take place every other Wednesday, and the content will vary with every session depending on what grade we are addressing. No registration is needed — just tune into TRCA's YouTube channel at 10:00 a.m.
*PLEASE NOTE: In the interest of fostering a healthy livestream chat conversation, we encourage teachers of virtual classrooms to screen-share with students rather than asking them to log in individually.
Watch Previous Livestream Sessions
Check our calendar for information on upcoming sessions:
WOW INTERACTIVE VIRTUAL PROGRAMS:
Nature in Your Classroom
We currently offer Interactive Virtual Programs for classes in TRCA's jurisdiction*. A TRCA educator will join your class virtually for an engaging WOW program. Spaces are limited.
*PLEASE NOTE: Program availability differs by region.
Register for Interactive Virtual Programs:
Region of Peel: Grades K-8

GO TO BOOKING FORM

York Region

Programs for York Region schools are now full

*
City of Toronto

Programs for Toronto schools are now full

**
*To receive notification when registration for York Region becomes available, please email natalie.harder@trca.ca.
**To receive notification when registration for Toronto becomes available, please email raja.raudsepp@trca.ca.
WOW IN-SCHOOL PROGRAMS
Unavailable at this time due to Covid-19 related restrictions
Watershed on Wheels brings all the necessary equipment to your classroom to engage students in a variety of fun, half-day nature learning experience. Check out our offerings:
---
ARE YOU A TEACHER IN YORK REGION? PLEASE READ:
Toronto and Region Conservation Authority (TRCA) delivers programs in the following municipalities of York Region: City of Markham, City of Vaughan, King Township, Town of Richmond Hill and Whitchurch-Stouffville. However, please note that some parts of York Region fall under the jurisdiction of Lake Simcoe Region Conservation Authority (LSRCA). If you are unsure whether your school falls within TRCA's jurisdiction, you can use the map below to find out. For information on LSRCA education programs, please visit www.lsrca.on.ca/education.
TRCA Jurisdiction