Open daily May 20 – September 4, 2023. Open weekends September 2 – October 9, 2023.
Today, we're open from 9:00 am – 8:00 pm. See all hours.
table of contents
Amenities
Accessible Washroom Facilities

Hiking Trails

Picnic Sites Available

Sports Fields

Pets Permitted on Leash

Washrooms
Activities
Experience the outdoors with family and friends at Boyd Conservation Park. Hike through the forest, play on green spaces along the Humber River, and enjoy picnics, BBQs and fun.
Located within the headwaters of the Don and Humber Rivers, Boyd Conservation Park offers a unique opportunity to enjoy nature in the city. The park is one of the GTA's foremost summer picnic destinations for families and large groups. The steep-sided Humber River Valley and tall trees provide a quiet refuge where you can relax and enjoy the outdoors.
FINDING YOUR WAY AROUND
STAY SAFE! Stay on the trails you see on the map.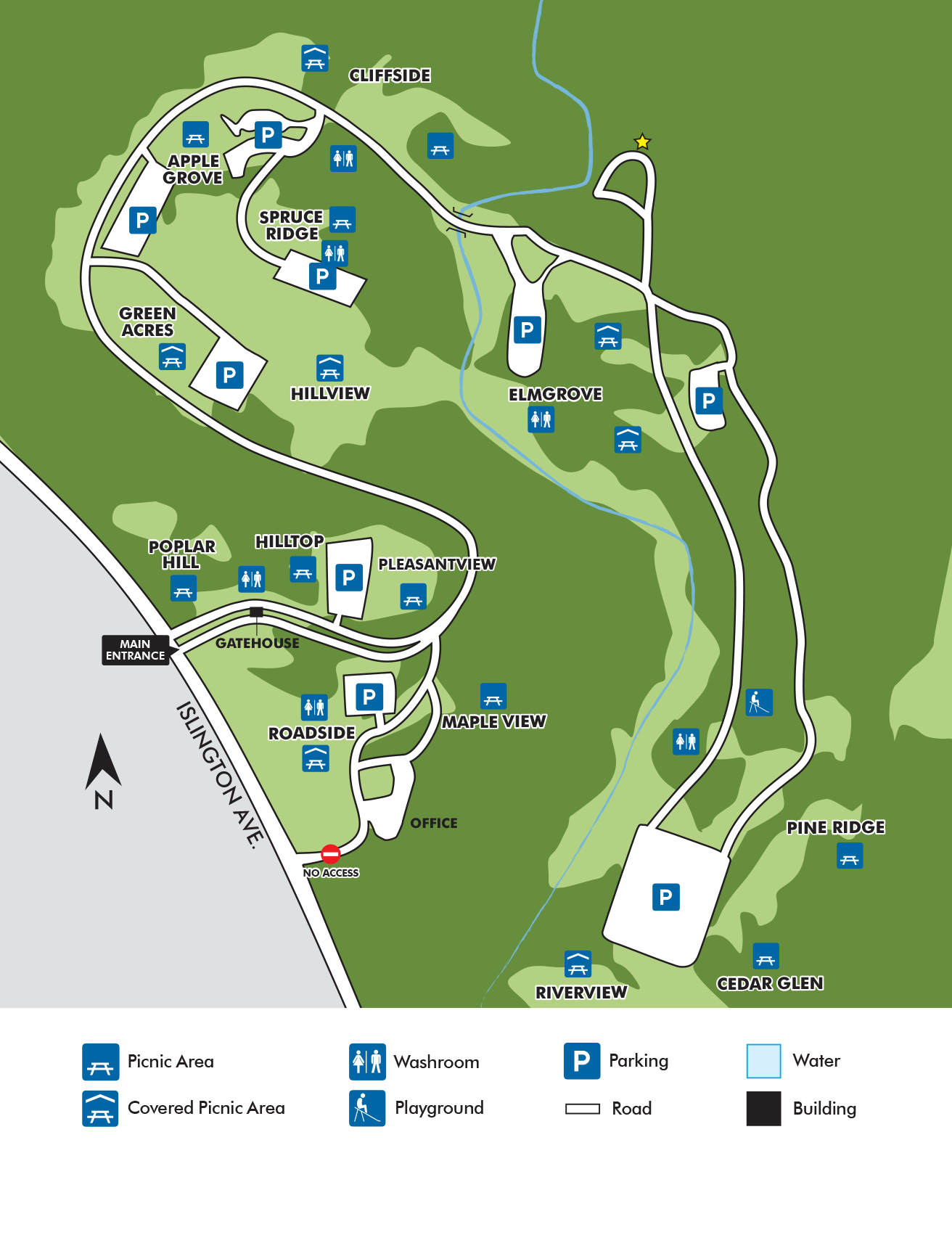 RECREATION AT BOYD
Picnics
Have a ball with family and friends this summer. With 17 picnic sites, Boyd Conservation Park can easily accommodate groups both large and small.
Our friendly customer service representatives will help you determine the best site for your group.
To book your picnic site, visit picnics.ca.
Hiking
Explore the trails that wind through the beautiful Humber River valley at Boyd Conservation Park.
Cross Country Running
During the fall, Boyd Conservation Park plays host to a number of cross-country races. The large shade trees offer runners the perfect conditions for training and competition. Our friendly staff has plenty of experience hosting cross country runs and will help make your next race a success.
Day Camps
Boyd is a great place for day camps and day cares to explore nature's playground during the summer months. We offer an ideal location with many shaded areas, picnic shelters for lunch and snack times, open fields for sports and plenty of washrooms. Special permit pricing applies.
Private Functions
For more information, date availability or to book an appointment to visit the facilities, please call 416.667.6295 or vservices@trca.ca
Groups and Education
To book Boyd Conservation Park for group activities, please call our customer service department at 416.667.6295.
ACCESSIBILITY
Accessible men's and women's washroom facilities on site.
PET POLICY
Pets are permitted at most TRCA conservation parks. However, to ensure everyone's safety and enjoyment, we do insist that:
Pets are kept on a leash no longer than 2 metres at all times.
Owners clean up after their pets.
Pets are not permitted in the Aquatic or Visitor Centres.
A maximum of three pets per person/family.
Pets are never to be left unattended.
For more information, please read our Domestic Animals Policy.
---
---
CONSERVATION PARKS MEMBERSHIPS
Enjoy FREE general admission to Boyd Conservation Park and other locations, along with a host of discounts and savings, when you purchase a Conservation Parks Family & Friends Membership!
---