Through County Court SNAP, City of Brampton installed its first bio-filter swales along County Court Boulevard as part of a planned road resurfacing.
About the Project
This integrated project was able to access new funding and draw on existing budgets, demonstrating a strategic financing model and interdepartmental coordination.
Installed in 2014, the bio-filter swales collect and clean stormwater run-off from County Court Boulevard before it enters the Etobicoke Creek.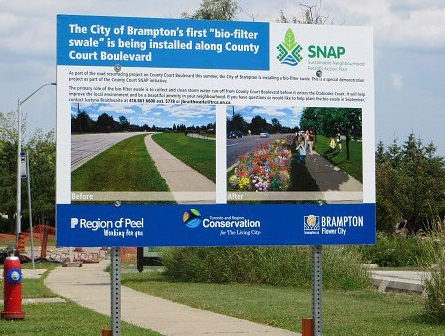 The east and west swales are 70 and 85 metres in length, respectively, and three metres wide. Their combined road drainage area is 1,658 square metres.
Road runoff enters the swales through a series of curb cuts along their length.
The swales feature herb and grass plantings and shredded mulch cover, thereby creating an attractive landscaped feature that also treats road runoff.
Toronto and Region Conservation Authority's (TRCA) Sustainable Technologies Evaluation Program (STEP) team conducted a two-year monitoring program to evaluate the performance of the project.
STEP measured the bio-filter swale's ability to reduce concentrations and loads of typical stormwater pollutants, and to reduce runoff volume and peak flow rates from road drainage areas.
Funding sources for construction and monitoring included: Tree Canada and TD Friends of the Environment Foundation for the planting; the Ontario Ministry of the Environment, Conservation and Parks, and STEP for the monitoring; and the City of Brampton and TRCA's Partners in Project Green (PPG).
Region of Peel provided review of design and Fletcher's Creek Senior Public School was the official planting partner.
Read the Project Reports:
To learn more about the County Court Boulevard Filterswale project, please contact:
Shannon Logan, Senior Program Manager, Sustainable Neighbourhoods
(437) 880-2412 | shannon.logan@trca.ca