Harvest the Rain is a home retrofit program for single-family homes in the Black Creek SNAP neighbourhood. Homeowners meet with program advisors to learn about actions they can take to create a more sustainable household, save money on utility bills and contribute to establishing a more resilient community in the face of climate change.
The main focus areas of the program are:
Disconnecting downspouts
Installing rain barrels
Urban agriculture
Basement flooding protection
Energy conservation
Enhancing the

urban forest
"Harvest the Rain program is very significant for the community. I learned how to install a rain barrel at the bottom of a downspout to collect rainwater, which is the best food for the plants. Now I save money, reduce the amount of stormwater going to the system and help to protect the environment!" – Mita Chen, Black Creek SNAP participant
Participants receive a Home Savings Folder which contains detailed information about simple retrofits they can make and programs that can help them achieve these goals. Individuals remain connected through regular Harvest the Rain newsletters, community events, workshops and skill-sharing meetups, and share their success stories with program advisors.
There is no cost to participants, and more than 260 homes have already received home consultations since the program began in 2013.
KEY COMPONENTS
Stormwater Management
Harvest the Rain helps homeowners manage as much stormwater as possible at the lot level through capture, infiltration and evapotranspiration via vegetation. This is important to help protect the quality of the Black Creek and reduce flooding. Program advisors provide support for, and encourage, the following retrofits:
Disconnecting Downspouts: In the City of Toronto, residents are required to disconnect their downspouts from draining directly into the storm sewer. Some residents re-direct the the downspouts to gardens where the water infiltrates into the ground while others capture the rainwater to use later for watering gardens. A total of 64 downspouts have been disconnected as a result of the program (based on homeowners reporting back).
Installing Rain Barrels: The installation of rain barrels has been the most popular retrofit implemented by Harvest the Rain participants. More than 375 barrels have been adopted through the program. Many residents are avid vegetable gardeners and were quick to realize the added benefit of using rainwater to water their gardens.
Planting Trees and Gardens: Trees and gardens play a vital role in managing

stormwater

by slowing, intercepting and recycling rain water. The Black Creek neighbourhood has a low canopy cover (approximately 26% in 2011) but with the potential to increase it to 34% by planting in the large back and front yards. Through the program, approximately 140 trees have been planted to date.
Using their linked rain barrels regularly between June 2013 and June 2015, the Chitnis family (one of our demonstration homes) saved 31,900 litres of water from going down the storm sewer and negatively impacting the Black Creek and Lake Ontario!
Urban Agriculture
Harvest the Rain participants are often avid food-growers with a large proportion of their yards devoted to vegetable gardens and fruit trees. Many individuals have advanced skills and knowledge such as seed saving, growing from seed, pruning, grafting, and preserving.
Growing food in backyards contributes to stormwater management, greenhouse gas reductions and increases community resiliency.  The Harvest the Rain program aims to amplify this neighbourhood strength through a number of initiatives:
Skills-Sharing Events: These informal workshops bring together members of the community to share gardening skills with each other and form new networks amongst residents, both Harvest the Rain homeowners and San Romanoway Community Garden plot holders.
Orchard Co-op: Harvest the Rain participants with fruit trees have the option to join the Orchard Co-op. Activities include structured workshops such pruning and natural pest management, and work days where neighbours work as a group to help each other manage their trees
Fruit Tree Planting: The program has encouraged fruit tree planting through subsidies to participants to have fruit trees planted on their property. A total of 94 households have participated by planting fruit trees. The most popular types planted are cherry, pear and apple.
Surplus Harvest: Some gardens produce more fruits and vegetables than the family can consume, resulting in produce going to waste. This unique program element facilitates the weekly donation of freshly-picked backyard produce from Harvest the Rain participants to local programs. Since 2014, more than 1,500 pounds of produce has been donated. Past donation recipients have been the children's program and senior's meal program at the San Romanoway Revitalization Association; the Tobermory Foodbank; an after-school tutoring program; and seniors' groups at 415 Driftwood and the Jane Finch Community and Family Centre.
Black Creek Garden Resource Network: Black Creek SNAP has partnered with other local organizations to form the Black Creek Garden Resource Network (BCGRN), led by the Black Creek Community Farm.  Members receive organic seedlings and seeds, organic compost, access to workshops and a tool library. The network is suitable for both backyard and balcony gardeners.
Energy Conservation
The majority of homes in this neighbourhood were built in the 1960s and are good candidates for energy conservation retrofits. Harvest the Rain shares information with residents regarding the benefits of conservation, including simple tips to make households more efficient, and programs that are available to make retrofits more affordable.
Program advisors connect homeowners with the following programs:
Approximately 48% of participating homes reported to us that they have implemented at least one of the following retrofits as a result of the program:
Completed air sealing or draft proofing

Installed insulation

Upgraded to energy efficient furnace, AC, fridge or freezer

Installed new windows and/or doors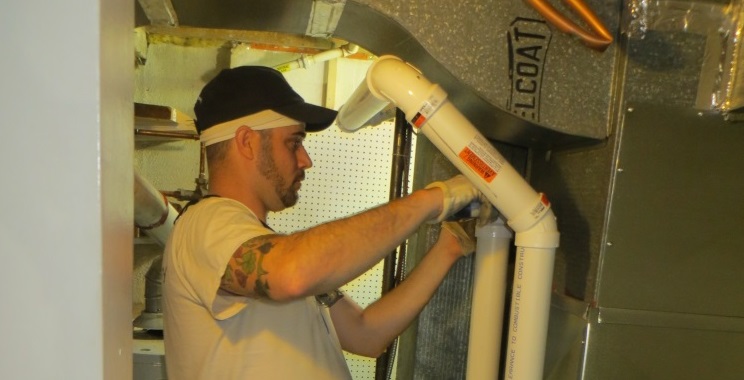 Basement Flooding Protection
Many of the homes in the Black Creek SNAP neighbourhood have experienced or are at risk of basement flooding.
Program advisors review both simple and major upgrades that can help residents protect their homes. Free workshops have also been offered, connecting residents with experts who can answer their questions and provide additional advice – including how to make sure they have the appropriate insurance coverage and what upgrades will help them reduce insurance fees.
27% of participants have reported back that they have implemented at least one of the following basement flooding protection actions:
Installed sump pump

Installed backwater valve

Sealed cracks in foundation or walls

Sealed or upgraded basement windows
Demonstration Homes
In 2012, residents in the Black Creek SNAP were invited to apply to become a Harvest the Rain demonstration home.
Two households were selected to receive direction and support in conducting indoor and outdoor retrofits to their homes. Once completed, these demonstration homes hosted tours that were open to the public as an example of what could be done in individual homes.
In addition, SNAP was able to directly measure the impact of some of these upgrades by comparing data collected before and after implementation.
The Chitnis family made a few indoor and outdoor retrofits that made a big impact. A large vegetable garden was installed with an extensive rain barrel system to support the gardens.
Inside, an energy audit was completed and a new furnace and air conditioner were installed. Additionally, easy upgrades such as air sealing within the house provided savings.
HOW TO GET INVOLVED
If you live in the Black Creek SNAP neighbourhood, Toronto and Region Conservation Authority (TRCA) is now booking free personalized 30-minute doorstep home meetings and will meet with you to provide guidance on the best resources to help you make water and energy efficiency changes to your home and garden.
To book a home consultation or speak to a Program advisor, call or email:
Adriana Gomez
Senior Program Manager, Sustainable Neighbourhoods
adriana.gomez@trca.ca
(437) 880-2408
---
Funding Provided By:
In Partnership With:
Charitable Partner:
WITH SUPPORT FROM THE GOVERNMENT OF ONTARIO