We are now taking bookings for the 2022-2023 school year. Please contact vservices@trca.ca.
Claremont Nature Centre is located on a beautiful 160-hectare property in the Durham Region. The pristine Duffins Creek runs through the property, which is flanked by valley slopes of mixed woodland and open meadows.
We offer a variety of nature-based programs for school groups, Guides, Scouts, adults and community groups, as well as camps and nature clubs!
"Our students enjoyed every minute they had at Claremont. Your facility is amazing. The staff are fantastic." – Principal, Bobby Orr Public School
Our curriculum-connected programs are designed to deliver hands-on experiences in a safe and supportive outdoor setting. For students, they provide the opportunity to take part in real-life applications of classroom learning.
DOWNLOAD OUR TEACHER'S PLANNING GUIDE
---
About Our Facility
Claremont Nature Centre, which opened in 1970, is a panabode cedar log building with a spacious lounge, wood-burning fireplace, dining area and classroom that accommodates up to 54 participants and four visiting teachers or leaders.
Rooms sleep two to six participants in bunk-beds. While visiting, staff have adjacent private rooms with ensuite washrooms.
In addition to a wide variety of activities, Claremont Nature Centre provides the opportunity to explore one of the region's healthiest cold-water streams, as well as a chance to look back at our heritage in a restored pioneer log cabin.
Our Address: 4290 Westney Road North, Pickering, ON L0C 1A0
MAP + DIRECTIONS
IMAGE GALLERY
Select Read Now for a full-screen view; select the arrow to the right to advance to the next page.
INFORMATION FOR PARENTS
Claremont camps focus on the individual while helping develop a deep connection with nature and prioritizing skill-based learning. With the support of our experienced camp counselors, campers will learn how to build shelters and fires, practice their identification skills and search for wild edibles in the forest.
Our limited camp registration allows us to follow the passions of the group and support your child's interests through custom learning.
Riversong Program at Claremont
2023 FALL/WINTER DATES JUST ADDED!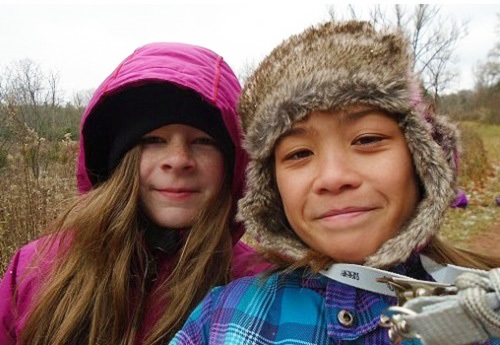 Riversong I and II are programs for non-binary or female-identifying participants who love running in the woods, connecting with nature, and forging new relationships around the campfire:
Riversong I is for those aged 7 to 12. It is designed to help participants increase their confidence and resiliency, and learn new skills outdoors while building community. This is a chance to connect with nature, themselves, and each other while being given opportunities to share, learn, and grow.
Riversong II is for those aged 12 to 17 working on ways to ground themselves in a wild world. The program challenges participants to work together to build confidence and leadership skills, continue their naturalist skills, and have some good old fashioned fun!
The programs run over the course of five Saturdays in the forest surrounding Claremont Nature Centre.
Come get a little muddy, hike a little farther, and sing a little louder with Riversong!
CAMP INFORMATION
Ages:
Riversong I:
7 to 12, female identifying or non-binary
Riversong II:
12 to 17, female identifying or non-binary
Program Dates:
Saturdays:
September 23, 2023
October 14, 2023
November 4, 2023
December 2, 2023
January 13, 2024
Program Hours:
10:00 a.m. to 3:00 p.m.
Program Fees:
$250 for five sessions
Cancellation Policy:
READ MORE HERE.
RIVERSONG PROGRAM BOOKINGS
Kids' Birthday Parties
Connect with nature at your child's next birthday party, whether it's building fires and shelters, dissecting owl pellets, playing animal games … or a little bit of everything!
Choose from one of the following themes, or work with us to create an unforgettable birthday experience.
Nature Appreciation:*
Explore the beauty of the forest! Get outside, play games, explore different natural textures and colours, make art, and have fun!
*This program can be done on snowshoes in the winter months.
Amazing Animals:
Examine real bones and fur pelts, test your senses, and explore different habitats while looking for signs of animals. Then embrace your "animal instincts" while playing active games that show how animals hide, find food, camouflage, and survive!
Water Wonders:
Bring your rubber boots and get ready to walk in Duffin's Creek! Learn about different creatures that live in the water, and how to safely and respectfully catch and release them. Do you dare to hold a crayfish?
Owl Prowl:
Become an owl explorer for the day! Keep your eyes and ears open for our feathery friends as you hike though owl territory. Learn to "hoot like an owl" and dissect owl pellets to see what owls have been eating.
Wilderness Survival:
Become an expert in the outdoors! Learn what to do if you're ever lost before enjoying building a fire and shelter of your own!
DETAILS:
Price: $330* + tax for a group of up to 20 participants
Our themed parties are designed for children from four to 12 years of age.
Available Sundays from 1:30 to 4:30 p.m. Alternate times can be requested.
Parties are three hours in length (1.5 hour guided program, an hour for food, cake, presents, and 30 minutes for any extra set-up, group-led games, or buffer time).
All programs are led by Claremont education staff.
Private Indoor space is included for food, cake, and present time.
Every party has an outdoor component. For your comfort, we recommend that you dress for the weather on the day of your visit and that participants wear closed-toed, flat-soled footwear (such as running shoes).
*Fees are subject to change.
To book birthday parties, please contact brianna.shields@trca.ca.
Weekend Bookings
Book your group event at Claremont!
Whether you lead a Guide or Scout group, a science camp, a sports team, or a youth or adult retreat group, we have what it takes to make your weekend engaging and entertaining. Our professional staff will look after all your needs.
Claremont Nature Centre provides accommodations, food, and all of the necessary basic equipment for the programs. Participants will need to bring appropriate clothing, bedding and personal items.
Our staff are available to lead morning, afternoon and evening programs each full day at the nature centre. Programs are professionally designed to maximize hands-on, outdoor education, and offer a safe learning environment for all visitors.
Call Visitor Services at (416)667-6295 for more information or to book your program.
Community Events at Claremont
From pond dipping to calling for owls, you'll find your next nature hike or family event at the Claremont Nature Centre and our neighbouring sites!
TRCA Cancellation Policy
Cancellation requests received by TRCA more than 14 days before the start of the camp program will receive a 75% refund of the relevant program fees paid. Cancellation requests received by TRCA less than 14 days before the start of the camp program do not qualify for a refund. Rescheduling is subject to availability. There is no refund for camp days missed or children opting not to participate in activities. Cancellation requests must be received in writing by email to vservices@trca.ca.
Questions?
Contact us at vservices@trca.ca or call (416) 667-6295
---
WITH THANKS TO: