Claireville Conservation Area is an 540 hectare natural landscape with beautiful wetlands, valleys, forests, grasslands, and the west branch of the Humber River. While Claireville is located in Brampton, it straddles Mississauga, Toronto and Vaughan.
We offer a variety of nature-based educational programs for children, families, students and teachers that embrace outdoor learning, play-based learning, and inquiry.
About Us
The Etobicoke Field Studies Centre was built in 1993 by the Toronto District School Board (then called the Etobicoke District School Board) and was used as an outdoor education centre by the board until recently.
Toronto and Region Conservation Authority (TRCA) decided to expand its education programming to the outdoor centre at Claireville in 2021, offering Summer Camps and Nature School programs.
WHERE ARE WE LOCATED?
Community Events
Outdoor Camps
The Nature School at Claireville
The Nature School provides an alternative form of education designed to explore experiential learning opportunities and promote curiosity to nurture the whole child.
Students will receive the benefits of an inquiry, play, and place-based education while learning in an outdoor setting.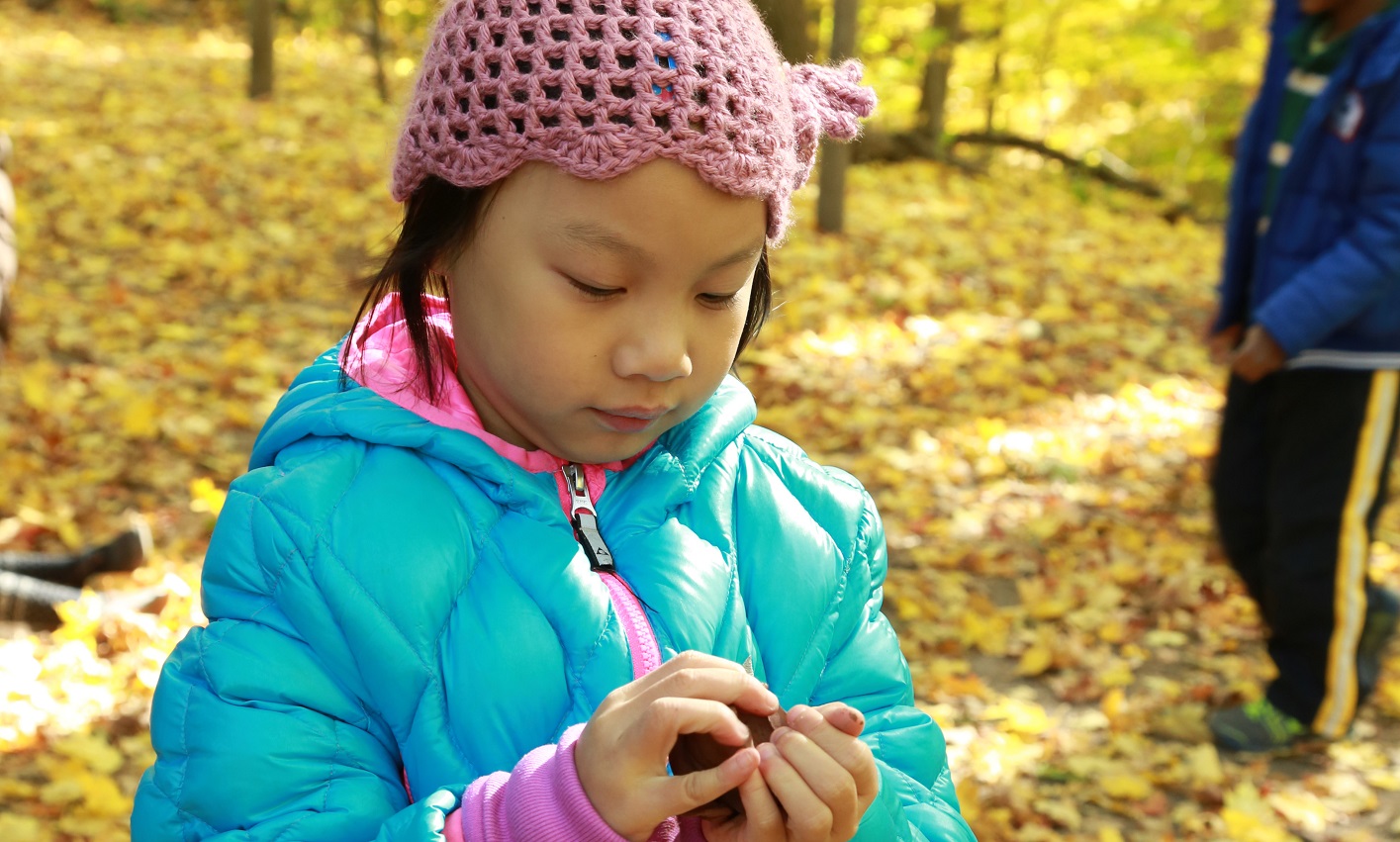 If you have questions about The Nature School at Claireville, please contact Jasmine Green at jasmine.green@trca.ca or (647) 244-9767.
The Nature School – Junior Program
Our junior school program is for students from Grade 3 to 6.
Students are placed in a multi-age grade: an approach to education in which students are treated as individuals and their skills are built from the starting point of where they are at, rather than what grade they in.
The Nature School – Primary Program
Our primary school program is for students from Kindergarten to Grade 3.
Students are placed in a multi-age grade: an approach to education in which students are treated as individuals and their skills are built from the starting point of where they are at, rather than what grade they are in.
The Nature School – Preschool Program
The preschool program at Claireville is offered to children who are 2.5 to 5 years of age and are potty trained.
The program uses a child-led approach to learning that is exploratory, inquiry-based, fun and unhurried.
Children interact with the natural environment through the use of loose parts, creative play, shelter building, whittling wood, cooking on an open fire, knots, making woodland crafts, and sharing stories.
Little Saplings Parent & Tot Program
Little Saplings is recommended for children ages 1 to 5.
In this program, youngsters will explore a new nature theme each week. The format allows for consistent structure with flexible content. Parent or caregiver participation is required.
Winter Dates: Wednesdays, January 17 to March 6, 2024
Hours: 10:00 to 11:30 a.m.
HIGHLIGHTS
Indoor activities including crafts, songs, and story time
Outdoor activities such as sliding, hiding, piling, building, and exploring nature
New nature themes explored each week
Connect with other young families
PRICING
Kids' Birthday Parties
Connect with nature at your child's next birthday party. Bugs, bees, birds … or a little bit of everything!
Choose from one of the following themes, and let us help create an unforgettable birthday experience.
Snowshoeing:
Explore the winter beauty of the forest! Go looking for winter animal clues, follow animal tracks, and hike in snowshoes!
Amazing Animals:
Imagine you are a squirrel, a deer, or a rabbit. How would you survive in the forest? Play active games that show how animals manage to hide, find food, use camouflage, and communicate with each other.
Owl Prowl:
Become an owl explorer for the day! Keep your eyes and ears open for our feathery friends as you hike though owl territory. Learn to "hoot like an owl" and dissect owl pellets to see what owls have been eating.
Orienteering:
Explore the forest and meadow of Claireville Conservation area while you read a map and find points on the property. Learn how to use a compass, and become an expert as you navigate around the space.
Wilderness Survival:
Become an expert in the outdoors! Learn how to build fires and shelters in order to survive in the wilderness.
DETAILS:
Price: $330* + tax for a group of up to 20 participants
Our themed parties are designed for children from four to 12 years of age.
Available Saturdays and Sundays from 10:00 a.m. to 1:00 p.m.
Parties are three hours in length (1.5 hour guided program and 1.5 hour for food, cake and presents).
All parties are led by Claireville education staff and include a themed hike through the forest and nature games.
Indoor space included.
Every party has an outdoor component. For your comfort, we recommend that you dress for the weather on the day of your visit and that participants wear closed-toed, flat-soled footwear (such as running shoes).
*Fees are subject to change.
To book birthday parties, please contact Jasmine.green@trca.ca.
Corporate Teambuilding
Take a break from your regular work environment and plan your next corporate outing at Claireville Conservation Area.
Get outdoors and breathe in the fresh air as you connect with your team surrounded by Claireville's beautiful wetlands, valleys, forests, and grasslands
TRCA's expertise in leading outdoor excursions means you're in good hands when you book your corporate function at Claireville. Choose from one of our programs below or reach out to us about a customized program.
PROGRAMS
Geocaching
Time: 1.5 to 2 hours
Number of Participants: 20 to 30
Season: Offered all year
Cost: $25 per person
Take part in the popular activity of geocaching: a high-tech scavenger hunt using GPS units! First, participants will learn how to use the GPS units and how to navigate a map. Next, in small teams, participants will walk just over 1-2 km of beautiful trails to find hidden treasures. This program can be adapted to be a fun, camaraderie-building competition.
Teambuilding Games
Time: 1.5 to 2 hours
Number of Participants: 20 to 30
Season: Offered all year
Cost: $25 per person
Establish positive group dynamics through physical and mental challenges that require group collaboration. Each challenge is designed to improve interpersonal skills and help participants to overcome barriers to personal and group growth. Our activities will help to build leadership, communication, creative problem-solving and positive group decision-making.
Wilderness Survival
Time: 1.5 to 2 hours
Number of Participants: 20 to 30
Season: Offered all year
Cost: $25 per person
Learn fire building safety and techniques and then put your skills and wits to the test. Learn different traditional (non-lighter/match) fire starting methods and try one of these methods out yourself. Unleash your competitive side as you work with your team to compete against other teams to burn through the string first.
To book a program, please contact Jasmine.green@trca.ca.
Educator Workshops
Nature and Outdoor Play in All Weather (Online Workshop)
Wondering what to do with families and young children in the rain and snow? This fun and creative workshop will give participants ideas and examples of how we can support young children (1-12) and their families as they play outside in all weather.
Engage in conversation and examples of winter activities, rainy day fun, and what it really means to dress for the weather! Participants will also have an opportunity to see what programming at The Nature School looks like with examples of nature-based play that can be altered for various ages.
Inquiry Based, Emergent and Experiential Learning (In-person Workshop)
Learn different educational models of child engagement in the outdoors. This approach to learning is child-led, child-centered, exploratory, unhurried and fun.
Participants in this workshop will get an in-depth tour of The Nature School and will experience hands-on activities and land-based unstructured free play ideas and activities that are great for early years programs.
Meet Our Staff
Jasmine Green, Supervisor, Claireville Education, OCT


Jasmine has been an outdoor educator for more than 15 years. With a B.Ed in Outdoor and Experiential Education, a Forest School Practitioners Certificate, and general love and enthusiasm for bringing kids outside, she has helped to develop and deliver nature programming for children of all ages.Jasmine has worked at The Tawingo Outdoor Education Centre, The Toronto Botanical Gardens, and The Kortright Centre for Conservation. She is excited to bring her passion for the outdoors to The Nature School at Claireville.

Jasmine believes that there is no such thing as bad weather, just bad clothing. When she's not teaching other people's offspring, she spends her time raising her own adventurous kids, taking them hiking, camping, and exploring!

Ken MacGillivray, Teacher, The Nature School, OCT


Ken grew up in Etobicoke but spent his childhood weekends and summers at his family's cottage on Lake Huron on the Bruce Peninsula. He went to York University to become a teacher, and then to Humber College for a Certificate of Outdoor Education.Ken briefly worked at a museum near his cottage, then at a YMCA camp in a National Park. Finally, he worked for two years as a primary school teacher at a reserve in Northwestern Ontario.

Ken started his time with Toronto and Region Conservation Authority (TRCA) as an environmental educator at the Kortright Centre, and he has been working for TRCA ever since.

Ken enjoys camping, hiking, canoeing and birdwatching, and he still spends a lot of time at his family's cottage. He also has a passion for conservation and volunteers with the Canadian Chestnut Council.

Betty de Groot, Educator, The Nature Preschool


Betty de Groot's love for nature began on the farm where she grew up, in rural Bolton. As a child she knew she wanted to be a teacher, and she was educated in the Trent-Queens Concurrent Education program.Betty spent 31 years teaching elementary school children in Toronto, Brampton and Caledon. She especially enjoyed her kindergarteners, whose love for nature and sense of wonder never ceased.

Betty was also a leader of her schools' Eco Team. For 21 years, she learned and shared with her various enthusiastic members what it means to value our precious home, the Earth. From community clean-ups, to bike rodeos, to butterfly garden building, the experience led her and the students to know the beauty and joy of being outdoors.

Betty looks forward to welcoming all children in outdoor settings to explore, and challenge themselves and experience wonder in nature.

Ralph Varga, Educator, The Nature Preschool


Ralph graduated from the Recreation Leadership program at Centennial College. He grew up in Toronto with a passion for nature and the outdoors, likely spawned through fishing trips with his dad from a very young age.Ralph has worked in many educational settings with children, from special needs kindergarten to sport programs, and finally 18 years in childcare, working with preschoolers right up to school-agers. Most recently Ralph was a program staff member at the Claireville Nature Summer Camp.

Along with his many years of experience, Ralph brings ideas, passion, and a gentle nature to help guide and support the learning and development of young children.

Ralph enjoys fishing, hiking, baking, gardening, and co-op board games.
Questions?
Contact us at vservices@trca.ca or call (416) 667-6295