In June 2016, the Toronto and Region Conservation Authority (TRCA) Board of Directors approved the construction of an administrative office building at 5 Shoreham Drive in Toronto and directed staff to take the necessary action to complete the project.
Early in 2017, all six of TRCA's participating municipalities, by way of their respective councils, approved the project and the allocation of $60 million in new and existing capital funding toward the project.
With support for the project and funding largely in place, TRCA has proceeded with the planning and construction of a new Head Office at 5 Shoreham Drive.
ABOUT THE PROJECT
The new building will be designed to:
Reduce operational costs
Provide a healthy workplace for employees and visitors
Set a high-water mark for office building development
Positively influence others engaged in designing and building communities in our jurisdiction and beyond.
TRCA is committed to applying best practices in green building and sustainable design. The building structure is envisioned to be a low-carbon wood and concrete hybrid system, which compliments the recent changes to the Ontario Building Code to permit wood structured buildings.
At minimum, the building will strive to achieve Leadership in Energy and Environmental Design (LEED) platinum certification and WELL Building certification.
Mass Timber Construction
The mass timber trade has now placed structure around the perimeter of the entire building, as shown below.

© Willie Carroll | IRC Building Sciences Group | A Rimkus Company. Video provided by Element 5.
Drone image from southwest
View from Tennis Canada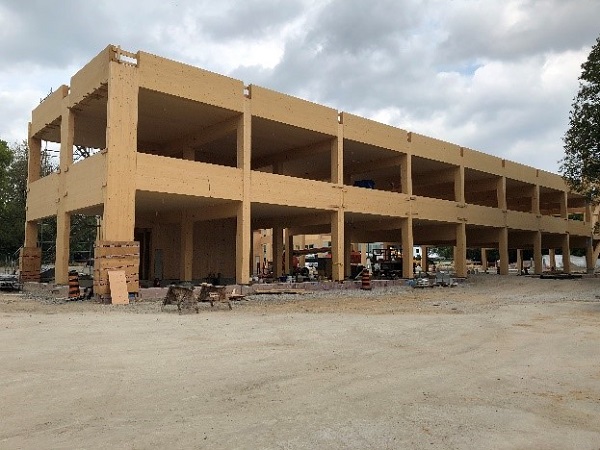 View from west
View to Black Creek Ravine from 2nd floor
Mechanical Install for radiant ceiling panels
2nd floor view to south – Planning area
View to Planning desk area at 2nd floor
View to elevator lobby
MILESTONE SCHEDULE
Architectural Design Phase: October 2017 – July 2018
Site Plan Approval: April 2018 – May 2020
Tender Construction: February 2019 – December 2019
Construction: January 2020 – September 2023
PROJECT DESIGN TEAM
QUESTIONS?
Please contact:
Chris Ellis, Manager, Major Contracts
chris.ellis@trca.ca