Invented: Propelled by Imagination Launches with a Night of Good Reads and Inspiring Stories
April 21, 2023, Toronto, ON — On Thursday April 20, Toronto and Region Conservation Authority's (TRCA) Black Creek Pioneer Village launched its newest exhibit within the McNair Gallery.
Invented: Propelled by Imagination unpacks the history, inspirations, and ideas of the 19th century's most innovative thinkers and creators to reveal the influences that helped shape our contemporary world, while bringing attention to the diversity of players involved – voices often unheard.
Through a collection of artifacts from the Village, the Royal Ontario Museum, the Ontario Science Centre, the Dr. Who Society of Canada, and private collectors, Invented takes visitors on a journey back in time to understand the lineage of scientific, technological, and creative concepts and products through a modern lens.
The framing encourages guests to rethink what is possible and who can be involved, and to recognize our role in creating the future we want to see.
The launch event was attended by exhibit contributors, authors, program partners, and TRCA Board members, staff, and volunteers. Event attendees not only had an opportunity to experience the immersive, tactile exhibit, but were greeted and rubbed elbows with popular intergalactic characters who helped bring the wonders of science-fiction – a 19th century creation – to life.
The event also featured exclusive live readings from local award-winning speculative fiction authors KT Bryski and Hugh Spencer.
While Invented is the launch of a new exhibit for the Village, it is also an important point of transition that launches a new direction for this local cultural institution.
Black Creek Pioneer Village is an integral part of TRCA. It drives the organization's efforts to create opportunities for the communities we serve to explore our heritage, culture, society and to understand our meaningful place in it.
Recognizing that many stories from the past have been left out of dominant narratives, the new direction for the Village will endeavour to create opportunities for diverse collaboration and platforms for various stories to be told – in effect, changing the narrative.
Working with a broad array of partners, stories will be shared through engaging experiences that make way for new perspectives to be seen and voices to be heard. The result will reflect the complex and layered ideas and issues our society is grappling with today.
The Invented exhibit is a taste of the exciting direction the Village is taking, and is worth experiencing firsthand to fully appreciate. Visitors are certain to leave with a new view of the world.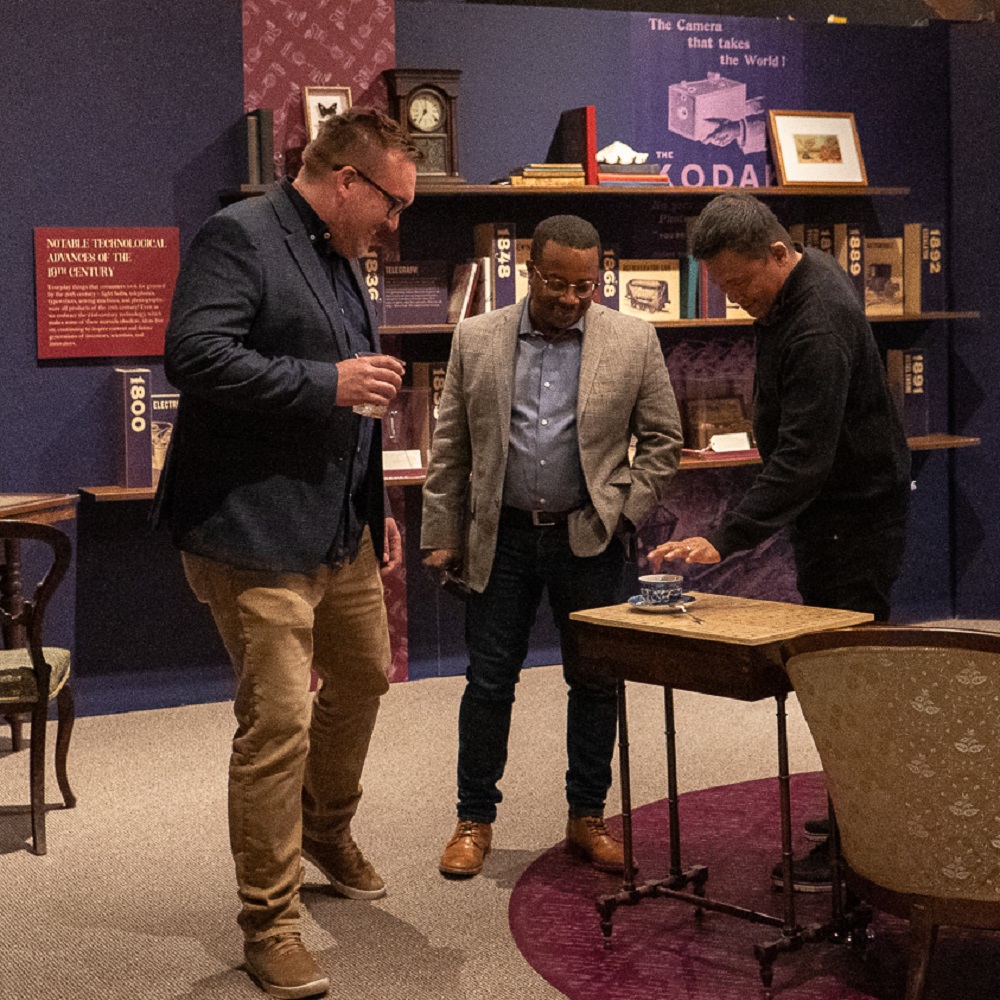 The public launch of Invented: Propelled by Imagination is on April 22, 2023, the opening day of Black Creek Pioneer Village for 2023. This new permanent exhibit can be accessed with the purchase of general admission to the Village.
Exhibition designed by Nuria Montblanch Designs and Juiceworks Exhibits.
Quotes:
"Black Creek's newest exhibit Invented: Propelled by Imagination is a thoughtful journey through 19th century innovations that have changed our world. More so, it reveals the stories and accomplishments of those who have typically been pushed to the margins, exclaiming that we can all play a valuable role in creating our future and making the seemingly impossible, possible. I'm thrilled about this launch and the new direction the Village is heading, which enables this valuable community institution to remain an important place to learn and be inspired. I look forward to seeing great possibilities come to fruition as we move into the future."
— Darryl Gray, Director, Education and Training, TRCA
---
About Toronto and Region Conservation Authority (TRCA)
Since 1957, Toronto and Region Conservation Authority (TRCA), as enabled through the provincial Conservation Authorities Act, has taken action to enhance our region's natural environment and protect our land, water, and communities from the impacts of flooding and increasingly extreme weather events – Ontario's leading cause of public emergencies.
As the region's first line of defence against natural hazards, TRCA maintains vital infrastructure and provides programs and services that promote public health and safety, protecting people and property.
TRCA mobilizes a science-based approach to provide sound policy advice, leveraging its position as a not-for-profit operating in the broader public sector to achieve collective impacts within our communities and across all levels of government.
TRCA's jurisdiction includes nine watersheds and their Lake Ontario shorelines, spanning six upper-tier and fifteen lower-tier municipalities and representing almost five million people, approximately 10% of Canada's population.
To learn more about TRCA, visit trca.ca.
---
Media Contact
Crystal Lee
Communications and Media Relations Specialist
Toronto and Region Conservation Authority (TRCA)
crystal.lee@trca.ca