Join us at Albion Hills Conservation Park in Caledon for an immersive Christmas experience with The Forgetful Elf!
Dates: December 2, 3, 9 and 10, 2022
Choose an entrance time slot between 5:00 and 8:00 p.m.
Location: Albion Hills Conservation Park
16500 Regional Road 50, Caledon, ON L7E 3E7
Board the Christmas wagon or take a short nature-inspired hike along our Christmas Trail to the Festive Forest, and join Letha the Forgetful Elf on a tour of the North Pole!
Have fun with interactive, outdoor stations, get green Christmas ideas – and of course, enjoy a visit with Santa!
While on your magical tour, stop by the local Christmas market to pick up some beautiful Christmas gifts while supporting local businesses. A full list of vendors will be provided closer to the event.
Don't forget to bring your letter to Santa to drop off at the North Pole Postal Service!
This event is intended for all ages and pre-registration is required.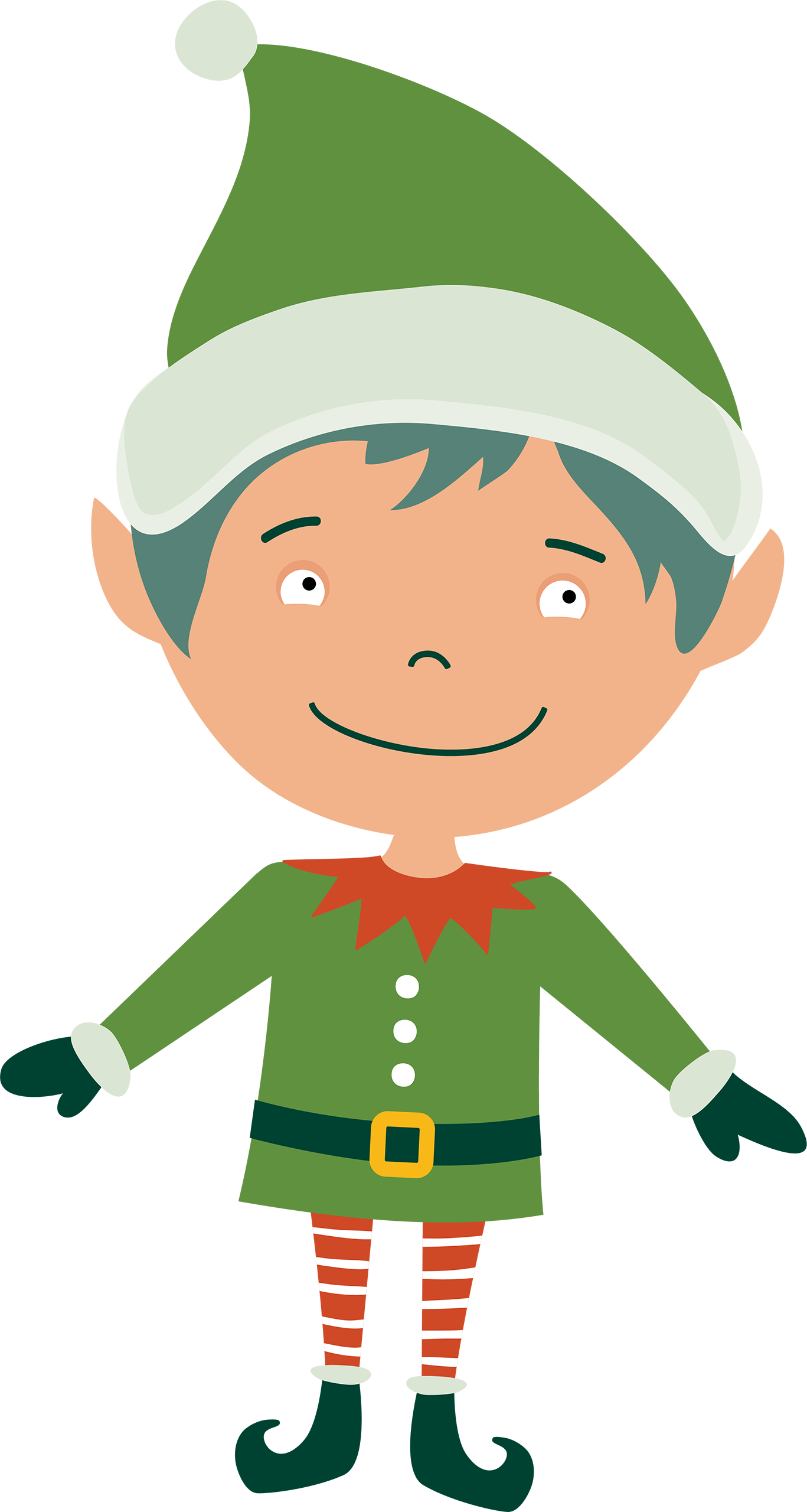 During the Forgetful Elf experience, we will be collecting dry non-perishables (less canned goods) food donations for Caledon Community Services. This food will be support families, youth, and seniors in our community. Please consider bringing a food donation with you to the event.
All food bank donations can be dropped off behind the gatehouse after you check in. There will be staff to help direct you; if staff are on a break please look for the giant food donation bin near the firewood and ice signs. If you miss this on the way in, you will have another chance to pass the same bin on the way out. Thanks for your donation! Learn more about Caledon Community Services.
The Forgetful Elf Ticket Prices
Up to six people (safely) in your vehicle: $48 + HST
Additional tickets (per person): $10 + HST
Free admission for children two and under
Tickets must be purchased in advance. Enter through the Albion Hills Conservation Park main entrance during your designated time slot between 5:00 and 8:00 p.m.
GET YOUR FORGETFUL ELF TICKETS!
---
Toronto and Region Conservation Authority (TRCA) is committed to creating an accessible experience for all participants. If you require an accommodation, please email forgetfulelf@trca.ca at least 14 days prior to the event.
The Festive Forest Map:
Select the image below to download and view the map.
Important Things You Need to Know
Tickets must be purchased online; we cannot guarantee that tickets will be available at the door.
Tickets are per vehicle (not per person).
No limos or buses.
Tickets are valid for one use only.
Food will be available for purchase on-site.
Hot chocolate is free!
Upon arrival, please stay in your car and check in at the front gate. Once you have checked in you will be directed to the parking lot and Christmas Wagon pick-up location
Everyone will receive a hard-copy story book at the Festive Forest.
Maximum speed is 5km/hr as you drive through the park. Please be mindful of weather conditions and pedestrians.
Please do not pass any vehicles.
Restrooms are available at the parking lot and the chalet.
Come prepared for an outdoor event, and explore at your own pace.
Please do not litter; there are disposal bins all around!
Frequently Asked Questions
I've purchased my ticket. Now what?
Once you've completed your purchase, tickets will be emailed to you directly. Your tickets can be displayed on your phone or printed to be presented and scanned at the gate.
A reminder email will be sent before the event date to provide additional information.
A member of my family is sick, what do I do?
We are taking every measure possible to ensure the safety of our participants, volunteers, and staff. We ask that you do the same to keep everyone safe from COVID-19.
If you are symptomatic, have been travelling, or have been exposed to anyone with COVID-19 we ask that you please stay home. Please contact us at forgetfulelf@trca.ca if you have any concerns.
What if I need to cancel or reschedule?
All ticket sales are final. Please contact us in cases of sickness prior to the program so we can be in touch about rescheduling. Rescheduling is subject to availability.
We will do our best to accommodate a reschedule request, but based on previous years' experience, this event sells out, so it may not be possible. Please contact vservices@trca.ca to discuss your options.
Unless TRCA cancels an event due to inclement/adverse weather, refunds or rain checks associated with weather conditions will not be issued. Event cancellations may occur due to extreme conditions such as severe snow or ice storms, extremely heavy rainfall, high winds and/or in the event of lightning or lack of power. Since most of our events are held outdoors with limited to no indoor space, please come prepared for current weather conditions.
TRCA makes every effort to proceed with an event as planned and will reopen its venues as quickly as possible once inclement/adverse weather conditions cease and the safety of our clients is not threatened. If an event is canceled by TRCA, participants will be notified, and all applicable fees will be refunded. Payments made by credit card will be credited back to the original card used for payment within 2-3 business days. Payments made by cheque or cash will be refunded by cheque in the mail, within 4 weeks.
If it is raining or snowing does my experience still happen?
Yes. Experiences are "rain, shine or snow"! If a weather event requires us to close, reserved visits will be cancelled, you will be emailed, and refunds will be issued.
Is this event included in my TRCA Family Pass Membership?
The membership does not include cost of entry for special events. Unfortunately, we are unable to provide membership discounts at this time.
How long should we expect to be there?
The wagon ride is approximately 10 minutes within Albion Hills Conservation Park. Once the wagon drops you at the Festive Forest it should take approximately 45 minutes to explore the interactive stations.
You may want to allocate more time for food, the Christmas market, a slower pace and/or the return wagon ride/hike.
Is this a stroller-friendly event?
Yes, strollers and/or wagons can be accommodated at the Festive Forest area, but please note we may not be able to accommodate your stroller or wagon on the Christmas wagon if you are visiting during peak hours.
You're welcome to walk the Christmas Trail if that works for you! The Christmas trail is not paved, it is through the forest. If you are intending on using a stroller, we recommend a trail stroller or one sturdy enough to use on a trail.
What time should I arrive for my visit?
Please arrive during your designated entrance time slot.
Can I take pictures?
Absolutely! We encourage you to take photos along the way. Please feel free to share to social media.
Is food available on-site?
Yes! Food is available for purchase on-site. Hot chocolate is complimentary.
Can I bring my own food?
Sure! Nut-free food is welcome. We kindly remind you to dispose of garbage, organic waste and recycling in the appropriate disposal bins.
What forms of payment are accepted at the Christmas Market?
Please come prepared to accommodate any form of payment (cash, credit and debit) as the answer will vary by vendor. There will not be ATMs on site.
Can we explore Albion Hills on our own after the tour?
During the event time we can only permit visitors to follow the story the designated area. If you wish to explore Albion Hills on your own, we invite you to visit another day. View admission prices and hours of operation.
Will there be washrooms available?
A portable, accessible washroom facility will be available at the parking lot and additional washrooms with handwashing facilities are available at the Chalet (where Santa is).
Can I reschedule my visit?
The event takes place solely outdoors and will run rain, shine or snow! Tickets are non-refundable, please see our cancellation policy for more information. If you have questions regarding your ticket order, please email vservices@trca.ca.
How should I dress?
Dress for the weather. Check the forecast and ensure everyone in your party wears proper footwear (boots) for cold, muddy conditions. Hats, mitts and warm coats are recommended on cold days. Snow pants are a good idea for small kids.
Please remember that December weather varies and changes quickly in the evenings. Layers are also smart!
How can I best prepare my group for the event?
Please note that the event is outdoors, in the evening, in December. Lighting, temperature and conditions may vary greatly. Feel free to bring your own lantern and be sure to review our "How should I dress?" section (above).
What language is spoken at demonstration sites?
English is spoken at demonstration sites.
Can I bring my pet?
We love furry friends, but due to the nature and scale of the event, we ask you to kindly leave your pets at home. Service animals are excepted.
Will I be able to purchase a wreath kit like last year?
Holiday wreath making workshops will be hosted on Saturday November 12, 2022 at Claireville Conservation Area (8180 Hwy 50, Brampton). Tickets are $35 and all of the materials will be provided, along with refreshments and snacks. This event includes separate workshops for families at 10:00 a.m. and 12:00 p.m. and for adults at 2:00 p.m
Interested in Sponsoring The Forgetful Elf: A Christmas Experience?
Please visit the sponsorship page or email Courtney.Cudmore@trca.ca to learn more about Forgetful Elf sponsorship opportunities.
EXPLORE SPONSORSHIP OPPORTUNITIES
Christmas Market 2022
Want to be a vendor at this year's Christmas Market? We'd love for you to join us! Check out our vendor portal to learn more about and sign up for this festive opportunity.
VENDORS
December 2-3

To be announced.
December 9-10