Today, we're open from 8:30 am - 4:00 pm. See all hours.
table of contents
Amenities
Registration Office

Washrooms

Showers

Pull-through Sites for RVs

Serviced and Sewer sites

Un-serviced Sites for Tents

Dumping Station

Coin Laundry

Swimming Pool

Children's Play Area

Pets Permitted on Leash

Firewood and Ice for sale
Activities
TRCA remains committed to reducing the spread of COVID-19. We continue to encourage visitors to self-screen, physically distance and use masks/face coverings while indoors. Advanced reservations and cashless payments remain in effect for some parks and facilities – please visit the park webpage or contact the park or facility for further detail. Hand sanitization stations remain in effect until further notice. Visitors are required to comply with all government regulations and mandates pertaining to COVID-19.
Check out our
Camping Reservation Policy
prior to your arrival.
---
The closest campground to downtown Toronto, Indian Line is the perfect spot for your urban camping adventure.
Camping for tents, trailers, and RVs, Indian Line Campground has easy access to highways and public transit, making it close to Toronto-area attractions.
Enjoy the lakeside feel created by the neighbouring Claireville Dam, and the close proximity to biking and walking tails, golf, Humber Arboretum, Claireville Conservation Area, and Wet'n'Wild (located next door).
Nightly, monthly, and seasonal camping opportunities are available for families and groups
CAMPGROUND MAP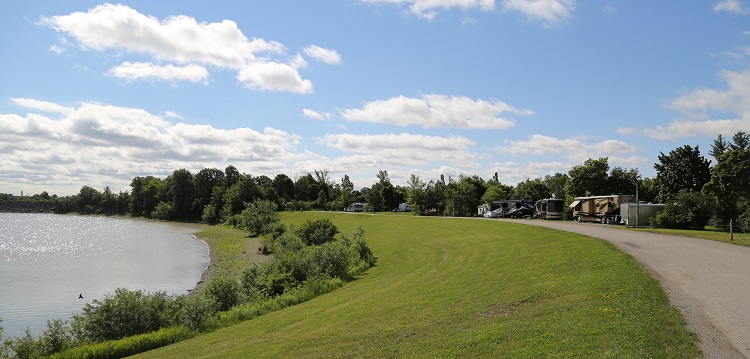 PET POLICY
Pets are permitted at most Toronto and Region Conservation areas. However, to ensure everyone's safety and enjoyment, we do insist that:
Pets are kept on a leash no longer than 2 metres at all times.
Owners clean up after their pets.
Pets are not permitted in the Aquatic or Visitor Centres.
A maximum of three pets per person/family.
Pets are never to be left unattended.
For more information, please read our Domestic Animals Policy.
CAMPING FEES
*no cash
| | | | | |
| --- | --- | --- | --- | --- |
| | Nightly BASE (plus HST) | Monthly BASE (plus HST) | Seasonal BASE (plus HST) | |
| Unserviced Site | $45.85 | $916.78 | N/A | |
| 30 AMP Hydro Service, Water | $52.38 | $1,047.74 | $3,995.14 | |
| 50 AMP Hydro Service, Water | $57.30 | $1,145.97 | $4,369.68 | |
| 30 AMP Hydro Service, Water, Sewer | $57.83 | $1,156.88 | $4,411.30 | |
| 50 AMP Hydro Service, Water, Sewer | $62.76 | $1,255.11 | $4,785.84 | |
Listed rates include admission for up to two people and parking for one vehicle.
Additional campers/vehicles are subject to admission/parking fees:
| | |
| --- | --- |
| Extra camper | $10.91 |
| Extra vehicle, daily | $13.11 |
| Extra vehicle, season | $81.86 |
| On holiday weekends, permit premium, per night | $3.26 |
| | |
| --- | --- |
| TRANSACTION FEES for Regular Campsites | |
| Reservation Fee by Phone or in Park | $11.61 |
| Reservation Fee Online | $10.59 |
| Change Fee by Phone or in Park | $7.70 |
| Change Fee Online | $6.74 |
| Cancellation Fee by Phone or in Park | $13.54 |
| Cancellation Fee Online | $11.61 |