When:
September 11, 2019 @ 12:00 pm – 1:00 pm
2019-09-11T12:00:00-04:00
2019-09-11T13:00:00-04:00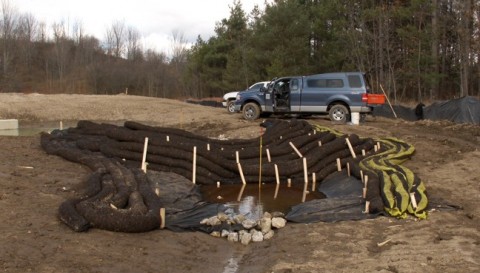 This webinar will detail requirements for turbidity monitoring consistent with the CSA standard, and include additional guidance on how the standard should be applied in practice. Topics covered will include (i) the type of performance monitoring that should be undertaken according to site characteristics/risk, (ii) what receiving water and effluent targets should be applied in dry and wet weather, (iii) how to carry out pre-construction monitoring and determine background concentrations, (iv) troubleshooting when turbidity exceedances occur, and (v) the appropriate protocol for responding to, and reporting on, exceedances of turbidity targets.
Learn the hows, whys, wheres and whens of turbidity monitoring on construction projects during this webinar, which will outline new turbidity targets and requirements based on the Canadian Standards Association (CSA) Erosion and Sediment Control (ESC) Inspection and Monitoring Standard (released in Nov. 2018) and new ESC guidance from the Greater Golden Horseshoe Area Conservation Authorities.
Who Should Attend?
This webinar is intended for any professionals involved in ESC planning, inspections and monitoring. It is suitable for ESC inspectors, developers, consultants, municipal staff, landowners or anyone looking to expand their knowledge of ESC performance monitoring and turbidity-based monitoring in particular.
Learning Objectives:
1. Knowledge of new suspended solids and turbidity targets for receiving waters downstream of construction projects
2. Understanding of how to implement a turbidity monitoring program
3. Tips on how to respond to and report on exceedances of turbidity targets.
Instructor: Lisa Rocha
Additional information:
IECA, Landscape Ontario, and AORS members are eligible for discounts. To register at this discounted price please contact Victoria Kring at Victoria.Kring@trca.on.ca and provide your member ID for membership confirmation.
Are you viewing this webinar with a group? You can add additional viewing attendees to your order, provided you are all viewing in the same location. Additional attendees qualify for a reduced registration fee of only $25!
OFFER! With the purchase of any two LIVE or PRE-RECORDED webinars, receive FREE access to a third webinar of choice. Email proof of purchase (e.g. your email receipt) to Victoria Kring at Victoria.Kring@trca.on.ca along with the title of the additional webinar you would like access to.
If you have any additional questions, please contact Victoria Kring at Victoria.Kring@trca.on.ca
TRCA HST Registration number is 10808 8584 RT001