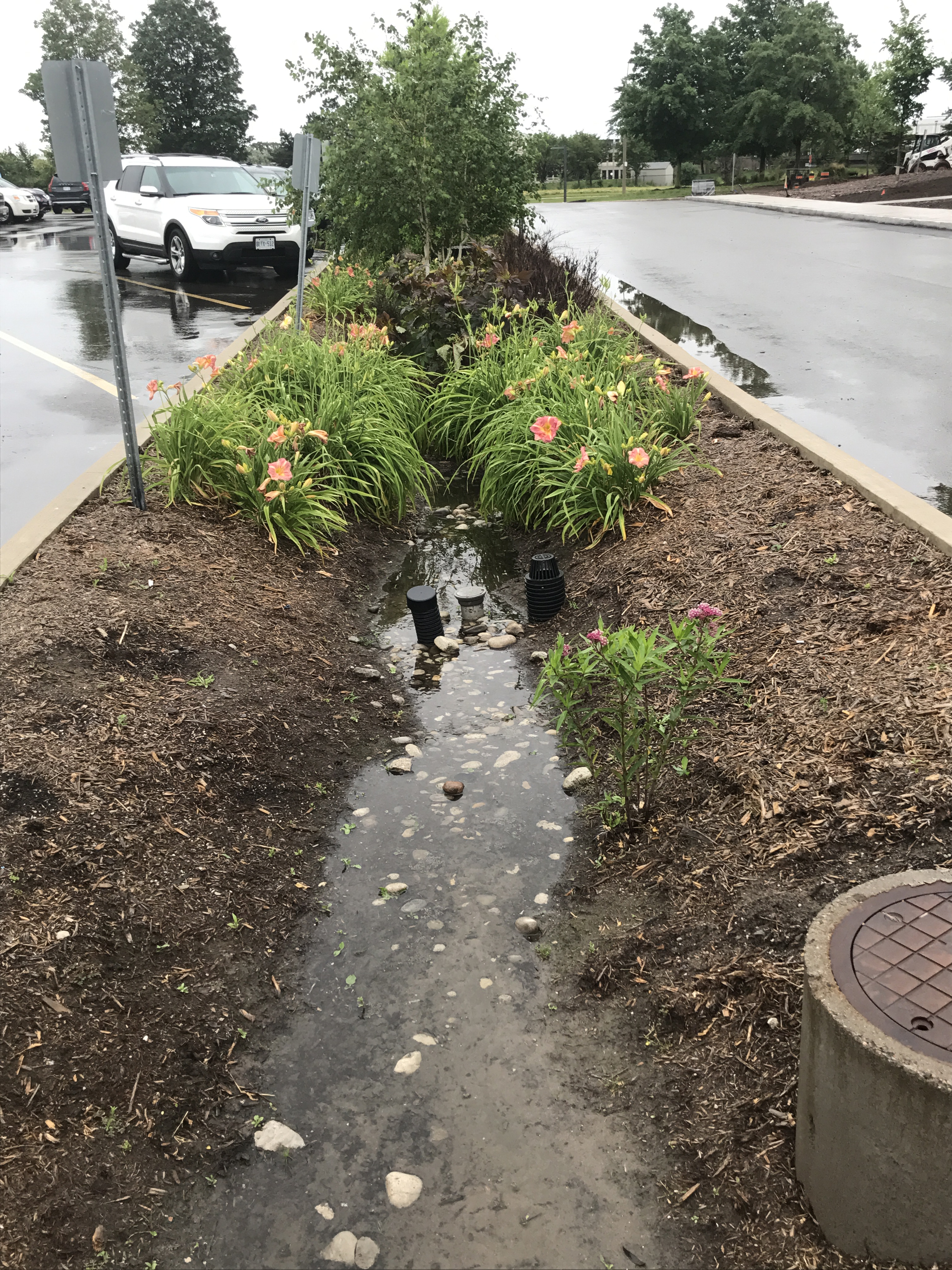 Day 1 – Critical Processes in LID Construction & Day 2 – Practical Guidance on Inspecting and Maintaining LID.  Register for one or both days.
This training event was produced through the Climate Change Adaptation Platform, with support from Natural Resources Canada.  
Description
Construction of LID practices involves techniques and specifications that differ from traditional stormwater management construction practices. Failing to follow proper LID construction processes can result in barren bioretention landscapes, clogged infiltration practices, uneven permeable pavements, and ultimately costly post-construction repairs. Instructors will take participants through the principles of LID construction, highlighting potential errors, lessons learned from various Ontario projects and explain proper techniques.
Learning Objectives:
1. Understand the role and importance of proper construction, inspection and maintenance in an LID practice
2. Identify critical LID construction processes, inspection points and key principles
3. Learn common methods for constructing LID practices and associated materials required for LID construction.
Day 2 – Practical Guidance on Inspecting and Maintaining LID
Instructors: Dean Young (TRCA) and Jen Hill (TRCA)
Description
Municipalities already face significant challenges in tracking, inspecting and maintaining their own conventional stormwater infrastructure while ensuring practices on private property are also adequately maintained. Integrating green stormwater infrastructure like low impact development (LID) best management practices (BMPs), into municipal asset management programs presents additional challenges, but ways to overcome them do exist. Participants will learn about essential steps in program design, inspection and testing protocols, and the specific maintenance needs for common types of LID BMPs. The experienced instructors will also impart valuable lessons learned from Ontario case studies and life cycle cost comparisons for each type of LID BMP.
Learning Objectives:
1. Identify components of stormwater infrastructure asset management programs that are critical for developing the capacity to
manage LID BMPs
2. Recognize key components of LID BMPs that require inspection and maintenance and equipment needs
3. Estimate the inspection and maintenance costs of LID BMPs over their operating lifespan using available guidance and
life cycle costing tool
Additional information:
Click here to see agendas for each day.
Each day of this course is eligible for 7 continuing education hours for CISEC and other industry associations.
Lunch will be provided.
TRCA HST Registration number is 10808 8584 RT001