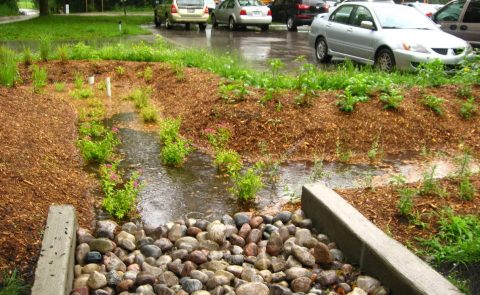 Day 1 – Introduction to Low Impact Development,  Day 2 – Advanced LID: Bioretention Design and Day 3 – Low Impact Development Treatment Train Tool and Infiltration Modelling. Participants can choose to register for one, two or all three days.
This training event was produced through the Climate Change Adaptation Platform, with support from Natural Resources Canada and is being organized in collaboration with St. Clair Region, Upper Thames River and Maitland Valley Conservation Authorities. 
Day 1 – Introduction to Low Impact Development
Instructors: Jen Hill (TRCA), Kyle Vander Linden and Cassie Schembri
Description
Low Impact Development (LID) is an innovative stormwater management approach that treats, infiltrates, filters, and retains runoff at the source. Though new, this technique is quickly gaining traction in Canada.
This course will demonstrate how LID is different from traditional stormwater practices, and why it is becoming a necessary part of our infrastructure. Over the course of the day, participants will learn the fundamentals of LID and review common misconceptions about LID performance. It will also explain how to overcome common barriers to implementing LID, including planning, design, construction, assumption, operations and maintenance.
Participants will have a chance to review real world examples of LID projects through a series of case studies on residential low impact development sites. Course instructors will also review some of the decision support tools available to help implement LID projects, include the WIKI Design Guide, the LID Treatment Train Tool, and the LID Lifecycle Costing Tool.
Description
Green infrastructure, including low impact development (LID) practices, is becoming an increasingly common approach to stormwater management control. Bioretention is one type of LID measure that is designed to treat runoff from paved areas by using the natural properties of soil and vegetation to remove contaminants. Water management practitioners need to be familiar with the 'ins and outs' of bioretention design including sizing and siting, inlet and outlet design, material specification, construction planning, as well as the associated lifecycle inspection and maintenance requirements that should be considered during the design process.
Using an example project site, participants will be guided through a bioretention design problem. The day will be a series of short presentations interspersed with (primarily math-based) problem solving periods when the participants will work in small teams to develop their designs. Participants are requested to bring a calculator, ruler or scale (1:1000) and a device capable of accessing the internet.
Description
The Low Impact Development Treatment Train Tool (LID TTT) has been developed by Lake Simcoe Region Conservation Authority (LSRCA), Credit Valley Conservation (CVC) and Toronto and Region Conservation Authority (TRCA) as a tool to help developers, consultants, municipalities and landowners understand and implement more sustainable stormwater management planning and design practices in their watersheds. The purpose of the tool is to analyze annual and event based runoff volumes and pollutant load removal by the use of Best Management Practices (BMPs) and Low Impact Development (LID) techniques. The LID TTT provides preliminary water budget analysis (i.e. surface ET, surface runoff, infiltration to soil) and pollutant load removal estimates for pre- and post-development scenarios. The tool is built upon the open source EPA SWMM5 model providing a user-friendly interface for novice modelers and cross-compatibility with SWMM5 for further model development. The intent of this workshop is to provide an overview of Version 1.2.1 of the tool which is available for free download on the STEP website (https://sustainabletechnologies.ca/low-impact-development-treatment-train-tool/). A detailed walk through of the model capabilities, case study examples, along with a Q & A and experimentation period will all be a component of morning workshop. Participants are requested to download the LID TTT prior to the workshop and to bring a fully charged laptop.
The afternoon portion of the workshop will provide participants with an opportunity to apply Darcy drainage calculations to explore the effects of altering the dimensions and effective porosity of infiltration systems.
Groundwater interactions, including the modeling and mitigation of groundwater mounding will be practiced using Hantush and Hooghoudt principles.
Additional information:
Click here to see agendas for each day.
Each day of this course is eligible for 7 continuing education hours for CISEC and other industry associations.
Lunch will be provided.
TRCA HST Registration number is 10808 8584 RT001