When:
September 26, 2019 @ 8:30 am – 4:30 pm
2019-09-26T08:30:00-04:00
2019-09-26T16:30:00-04:00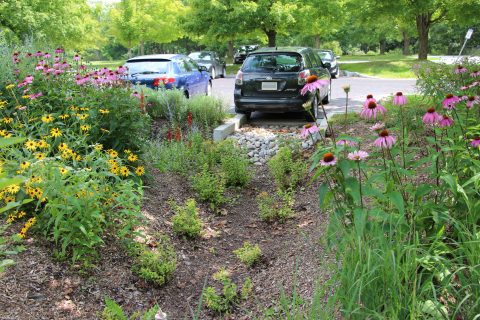 Registration 8:30 – 9:00 am.
Join the STEP team for this one-day workshop designed to introduce participants to the technical aspects of inspecting, maintaining and troubleshooting LID practices.  Participants will learn by undertaking activities, observing professional service delivery, and through a tour of sustainable infrastructure types.  Activities will include conducting  visual landscape inspections,  underdrain inspections, infiltration and soil testing, and inlet, outlet and pretreatment cleanouts.
LID components and systems will include: permeable pavement, bioretention, Filterra, green roofs and water harvesting and reuse.

Learning Objectives:
Upon completion of the course participants will be able to:
Refine their own LID designs to simplify and facilitate future maintenance.
Have confidence in practical skills of inspection and maintenance of various LID practices.
Have a working knowledge of the testing requirements that are used to assess or troubleshoot LID performance.
Gain first-hand experiences to inform decisions when developing an inspection and maintenance program including inspection types, timing and frequency, equipment and personnel requirements.
Who should attend:
This workshop is designed for consultants, municipal operations staff and property owner/operators who are responsible for inspection and maintenance of LID practices.  Anyone interested in learning about maintenance needs, inspection protocols and testing requirements will benefit from attending
Agenda:
Recommended pre-workshop study:
Instructors:
Jen Hill, Dean Young, Dean Luciani, Stephanie Wilson and Shannon Malloy
Additional Information:
Lunch and light refreshments will be provided.
Dress appropriately as the event is outdoors.
If you have any additional questions or concerns please contact Victoria Kring at Victoria.Kring@trca.ca.
Association 'discount codes' are not eligible for this course.
This training event was produced through the Climate Change Adaptation Platform, with support from Natural Resources Canada.
TRCA HST Registration number is 10808 8584 RT001