When:
December 4, 2019 @ 8:30 am – 4:00 pm
2019-12-04T08:30:00-05:00
2019-12-04T16:00:00-05:00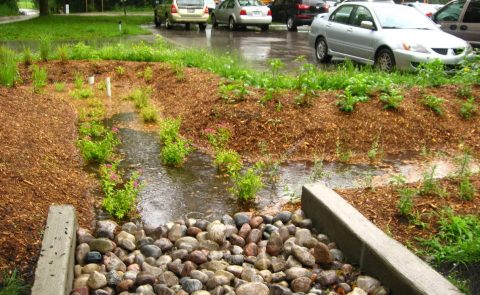 Registration Deadline: December 2, 2019
This training event was produced through the Climate Change Adaptation Platform, with support from Natural Resources Canada and in partnership with the Cataraqui Region Conservation Authority (CRCA) and the City of Kingston. 
Low Impact Development (LID), an innovative stormwater management approach that treats, infiltrates, filters, and retains runoff at the source, is quickly becoming the new norm in Ontario. This course will focus on three critical components of developing functioning LID practices: construction, inspection and maintenance.
The first half of the day will focus on LID Construction.  Construction of LID practices involves techniques and specifications that differ from traditional stormwater management construction practices. Failing to follow proper LID construction processes can result in barren bioretention landscapes, clogged infiltration practices, uneven permeable pavements, and ultimately costly post-construction repairs.  Instructors will take participants through the principles of LID construction, highlighting potential errors, lessons learned from various Ontario projects and explain proper techniques.
The second half will provide guidance on inspection and maintenance of LID practices.  Municipalities already face significant challenges in tracking, inspecting and maintaining their own conventional stormwater infrastructure while ensuring practices on private property are also adequately maintained.  Integrating green stormwater infrastructure like low impact development (LID) best management practices (BMPs), into municipal asset management programs presents additional challenges, but ways to overcome them do exist.  Participants will learn about essential steps in program design, inspection and testing protocols, and the specific maintenance needs for bioretention and other LID practice types.  The experienced instructors will also impart valuable lessons learned from Ontario case studies.
Learning Objectives:
Upon completion of the course participants will be able to:
Identify how LID construction differs from the construction of a conventional

stormwater management

site.
Understand LID construction considerations from mass grading through final assumption.
Understand the materials used in bioretention and other common LID practices
Know the common methods for constructing bioretention practices and specifying their materials along with other common LID practices.
Effectively stabilize and establish vegetated

stormwater management

practices.
Be aware of common construction pitfalls and how to avoid them.
Identify components of

stormwater

infrastructure asset management programs that are critical for developing the capacity to manage LID BMPs.
Recognize key components of LID BMPs that require inspection and maintenance and equipment needs.
Understand maintenance and operation procedures for bioretention and other LID practices
Who Should Attend?
This course is for anyone involved in the design, construction and inspection of LID, whether it is in a large subdivision development or a small parking lot retrofit. Instructors take participants through each step of the LID construction process through to assumption/certification highlighting potential errors and explaining proper techniques.
Recommended pre-workshop study:
Instructors:
Kyle Vander Linden (CVC) and Jen Hill (TRCA)
Additional Information:
Lunch and light refreshments will be provided.
This course qualifies for six (6) continuing development hour (CDHs) for the Certified Inspector of Sediment and Erosion Control (CISEC) program
If you have any additional questions or concerns please contact Victoria Kring at Victoria.Kring@trca.ca.
Association 'discount codes' are not eligible for this course.
TRCA HST Registration number is 10808 8584 RT001